Curators
Benedicte Goesaert
Art liaison and art historian Benedicte Goesaert (°1988) is active as an independent curator and supervises artist estates, amongst which the Philippe Vandenberg Foundation and the Philippe Van Snick Estate. To connect people with art in an inspiring and substantive way is her mission.
Chantal Pattyn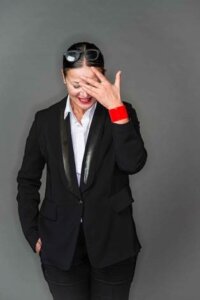 Chantal Pattyn is an art historian. She has been working for the VRT (Flemish Radio and Television) since 1990, where she has made various programs for, a.o. Studio Brussels and Canvas. She has been the network manager of Klara since 2007, where she also creates the art program Pompidou.
Peter Verhelst
Peter Verhelst is a poet and writes novels, theatre texts and texts for illustrated books. He is a theatre director. He often collaborates with visual artists, filmmakers and choreographers.